| | | |
| --- | --- | --- |
| | Check local road regulations before purchase | |

Radenso Pro-M: GPS-assisted Radar/Laser

-- Includes standard accessories --

Retail Price:
$ 795.00 AUD

[FREE Shipping

]

OPTIONAL Accessories for Radenso Pro-M




Visor mount




Hard-wire Power Cord
Radenso Pro-M: Radenso Radar CEO Jon discusses its advantages
Radenso Pro-M vs. Uniden R3
Radenso Pro vs. Spectre Elite RDD

The best Radar Filtering System for BSM false alerts
Most vehicle brands use radar based blind spot monitoring (BSM) systems which can set off your radar detector constantly. Using world-class hardware and sophisticated signal analysis technologies that originated in the military, Radenso have achieved what others said was impossible. The Radenso Pro M and Radenso RC M are the only radar detectors that can filter out BSM systems from Honda, Mercedes, and Ford.

RADENSO Pro-M contains the AU-NZ Speed Camera database
Radenso Pro-M "AU-NZ" is pre-loaded with Australian & New Zealand red-light and fixed-speed-camera locations. Regular updates are easy: The GPS database (satellite coordinates) is updated through a USB connection to your desktop or laptop computer.
Firmware upgrades are made through the Radenso Updater "PC" Application
| | |
| --- | --- |
| RADENSO Pro Series Updater for Windows: | |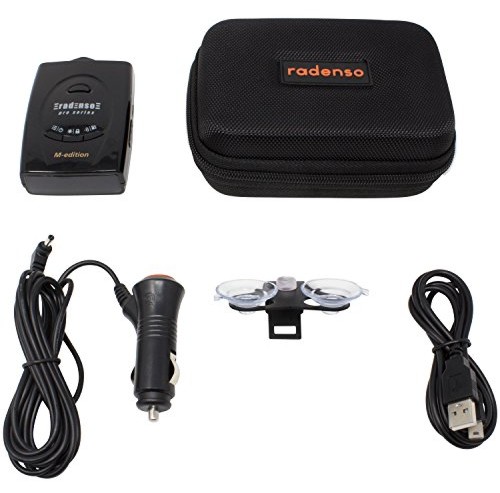 | | |
| --- | --- |
| RADENSO Pro-M Radar/Laser Detector with GPS Intelligence | |
Radar/Laser Detector - Dimensions: 93 mm (Deep) x 62 mm (Wide) x 33 mm (High)
Windscreen Mount - attaches Radenso Pro-M to front windscreen
Power Cord (straight)

- connects Pro-M to lighter-socket power supply of a vehicle

USB Cable - connects Radenso Pro-M to computer for Database and Firmware updates
Storage Pouch - contains Radenso Pro-M and Accessories
| | |
| --- | --- |
| K and Ka Radar Bands & Laser (X Band not used in Australia & NZ) | |
| | | |
| --- | --- | --- |
| | | K Band (Wide) : 24.100 GHz (+/- 150 MHz) |
| | | K SNarrow : 24.085 GHz - 24.185 GHz |
| | | K Narrow : 24.010 GHz - 24.190 GHz |
| | | K NZ Narrow : 23.950 GHz - 24.130 GHz |
| | | MRCD MultaRadar (FMCW) - Dedicated scanning of Frequency Modulated Continuous Wave RADAR |
| | | MRCT MultaRadar (FMCW) - Dedicated scanning of Frequency Modulated Continuous Wave RADAR |
| | | Gatso RT4 (Tracking RADAR) - Dedicated frequency scanning (24.120 GHz FM) |
| | | Ka Band : 33.400 GHz - 36.000 GHz |
| | | Laser : 904 nanometers (Hand-held LiDAR Speed Guns) |
| | |
| --- | --- |
| Audio/Visual Alerts | |
| | | |
| --- | --- | --- |
| | | Audio : Separate tones for all radar bands and laser |
| | | Voice : Optional spoken alerts |
| | | Visual : OLED display (text and bar range-meter) |
| | | |
| | |
| --- | --- |
| Settings for Detection and Warning | |
Power Button :
Short press
- (When no radar signal is received) Enter Settings Menu
- (When radar signal is presently received) Mutes the volume of the current alert.
Long Press
- Power: On/Off
Display/Alert Lockout Button :
Short Press:
- Select display brightness (bright, dim, smart dark, dark)
Long Press
- GPS Lockout
Driving Mode Button :
Short Press
- Changes current driving mode (Highway, City, or AutoCity)
Long Press
- Stores user GPS point of interest
Volume Buttons (+/-) :
Short Press:
- Short Press: Changes the volume of alerts or changes program options when in menu
Long Press
- N/A
| | |
| --- | --- |
| Parts and Labor | |
| | | |
| --- | --- | --- |
| | | Duration : 1 year |